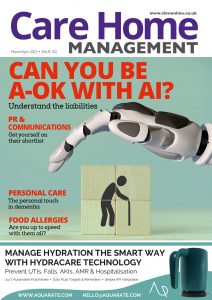 It's easy to think that people outside the world of care can't understand care, and, perhaps, when the job demands specific technical or clinical skills, it is understandable that everybody in our world might fish from the same small recruitment pond. In our most recent look at the adult social care workforce dataset[1] it is clear that social care nurses, in particular, are all on the same recruitment merry-go-round.
However, faced with the unforgiving realities of health and care recruitment and retention today, many people are starting to think outside the box. Who would have ever thought that there might ever be an alternative to the traditional full time medical school route to becoming a medical doctor? Well, medical apprenticeships are almost here.[2] They are seen as a much-needed way of increasing both the quantity and the diversity of the medical recruitment pool.
In 2021, as the England football team were on their way to face Italy in the Euro 2020 finals – former Olympian Matthew Syed examined how diversity of thinking could benefit the management – and performance – of the England team. His article[3] looked at why England manager Gareth Southgate had surrounded himself with non-football advisers including from the military, the world of tech, as well as a range of non-football sports. His thinking was to take advantage of fresh insights on preparation, diet, data, mental fortitude and more – sometimes called "divergent" thinking – in contrast with the "convergence" of echo chambers that you get when you seek advice from people in the same world as you, with the same experience, and the same unsolved problems. This may be what Elizabeth Finn is thinking with the appointment of a residential care 'newbie' as its chief executive officer (p24).
Doing things differently, breaking new ground is never easy, and it will almost certainly take tenacity and resilience. It takes something of a leap of faith to listen to people with a whole different set of ideas to you and to understand the relevance of what they are saying. It takes time and resources to get to grips with new concepts and to understand how to embed them in your own practice. You then have to bring others on board with the idea.
Networking events such as the Care Forum are a great way to access such insight. However, it may be that such insight is already available to you much closer to home – in the enquiries that you get for beds, from the suppliers that you deal with, from other care professionals. It's worth taking some time to find out. As Southgate said: "It's how you learn."
[1] MYEBOOK – Care Home Management Mar/Apr 23
[2] Medical Doctor Degree Apprenticeship | Health Education England (hee.nhs.uk) [online] at: https://www.hee.nhs.uk/our-work/talent-care-widening-participation/apprenticeships/medical-doctor-degree-apprenticeship
[3] Euros 2020: What all of us can learn from Gareth Southgate – BBC News [online] at: https://www.bbc.co.uk/news/world-57698821