The laundry infection control experts at JLA have teamed up with their in-house designers to produce an informative and simple laundry room layout guide.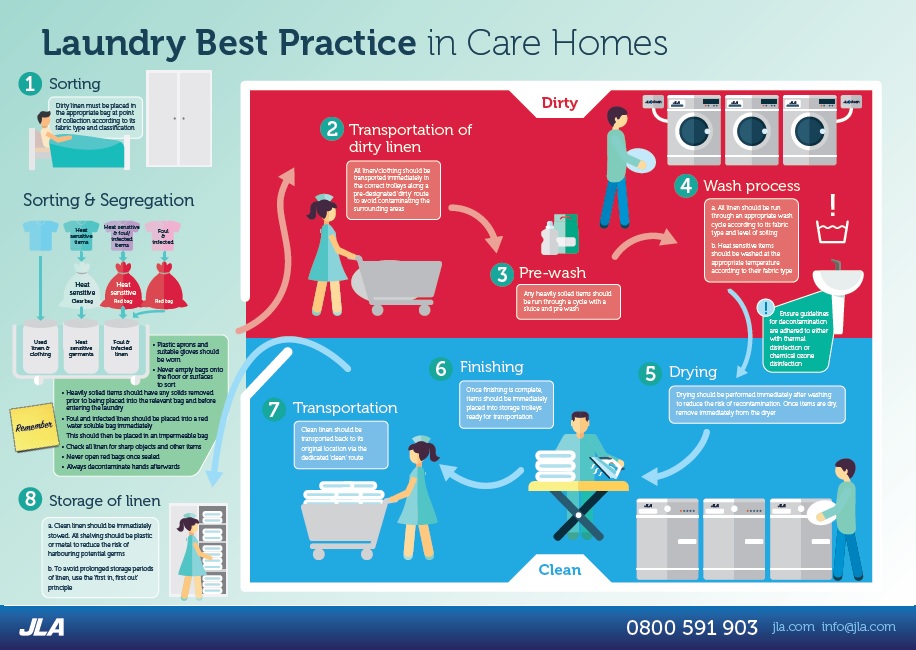 The infographic has been designed to highlight the segregation and sorting principles behind the Department of Health's HTM 01-04 'Decontamination of linen for health and social care' regulation, and illustrates best practice procedures for the handling and processing of soiled laundry to help prevent cross-infection in care homes and healthcare organisations.
HTM 01-04 (previously known is CFP 01-04) is part of a suite of "Health Technical Memorandums" produced by the Department of Health, and relates to the management, use and decontamination of healthcare and social care linen. The guidance is designed to ensure patient safety and enhanced outcomes using risk control.
JLA's laundry equipment has been developed over four decades of working closely with our customers in the care sector, and our range of commercial washing machines are all fully compliant with all relevant healthcare and environmental regulations, including HTM 01-04 and WRAS (Water Advisory Regulations Scheme).
Our washers are complimented by innovative solutions designed to provide enhanced infection control, including the cutting-edge OTEX ozone laundry disinfection system – acknowledged by the Department of Health and used by thousands of healthcare organisations and hospitals across the country – and the JLA Sanitiser, which allows entire rooms to be fully decontaminated within minutes.
Having the right equipment is however only part of the requirement – considerations also need to be made regarding the location and positioning of your laundry equipment, and the correct storage and processing of contaminated linen among other aspects which might not be immediately obvious.
Our infographic helps take the guesswork out of your laundry, and will ensure you minimise the risk of cross-infection for your residents.
View the laundry layout guide in full here   |   Download a copy of the HTM-01-04 regulations
Or contact one of our laundry advisors today to find out more about our range of infection control solutions, including washing machines, thermal dishwashers, OTEX ozone disinfection and the JLA Sanitiser.