The recent minimum/living wage increase not only means more money is being spent on staff overheads, but it can also leave care homes with little choice but to cut headcount as a result. Downsizing the number of employees might initially balance the books, but the effect on a home's efficiency, service provision, and ultimately its ability to turn a profit, can be extremely damaging.
Add to that the perpetual increase in other running costs such as gas, electricity, real estate and building rental, and the squeeze on care home finances becomes even tighter. These pressures alone are enough to give any owner or manager sleepless nights, but are even further compounded by commercial pressures. The demand for high quality food – from both residents and their families – is greater than ever. Indeed, 1 in 3 current care home users say they would pay more for better food and ingredients. More homes are recognising the value of providing good value, and so those that cannot keep up with the more varied and nutritious menus on offer around the UK will fall behind in months and years to come.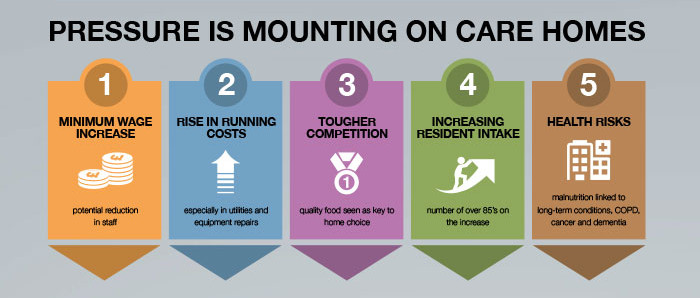 Increasing intake poses yet another problem for both independent homes and larger national groups. The number of over-85s is growing, which of course means more meals must be cooked – a tricky proposition for kitchens that are ageing as their residents do.
In conclusion, more directly linked to care provision itself, the risk of illness and poor elderly care outcomes is far greater for those who are unable to eat well. Those who take responsibility for nursing and old age care ought to beware that malnutrition is linked to long-term conditions such as chronic obstructive pulmonary disease (COPD), dementia and even cancer.
The hunger for good quality and nutrition in care homes
YouGov research shows that over half of those asked (56%) consider nutritious, high-quality food to be very important with regard to friends and relatives who are currently or have recently been in care homes.
That should bring home to readers the importance of cooking good quality food at every mealtime, not only to satisfy and properly care for those they serve, but also to attract new residents in a society where the number of over 85s is increasing along with life expectancy.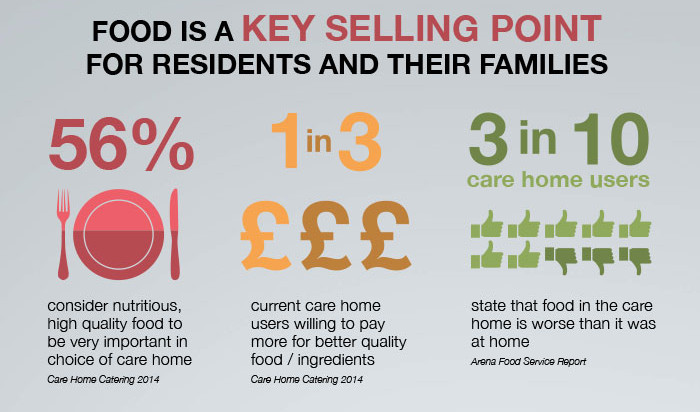 The standard of care provided in a home often makes the headlines, but seldom recognised as being linked to quality of food provided. As an example, few reports will highlight the fact that in addition to the prevention of long-term conditions and physical deterioration, good food plays an important contributing role in the development, management and prevention of specific mental health problems including depression. As James McCoy, research director at YouGov, points out: "As the recent stories about meal standards in the NHS show, food and care go hand in hand. To raise standards of cooking, and reap the benefits (both financial and ethical) of presenting better food choices to residents, homes must seek to improve their existing facilities wherever possible."
What is a combi oven…and why should I get one?
A commercial combi oven can open up new possibilities in your kitchen, and will complement your existing equipment by adding 'multi-function' versatility to every mealtime. With mounting pressures on care budgets and a growing demand for higher quality food in homes, our 8-in-1 cooking capability offers a quick-hit in both reducing running costs and providing more nutritional meals. However, though the impact may be instant, our benefits are constant. Offering around 60% less energy usage, commercial-grade durability, these cost and cook-efficient units give you: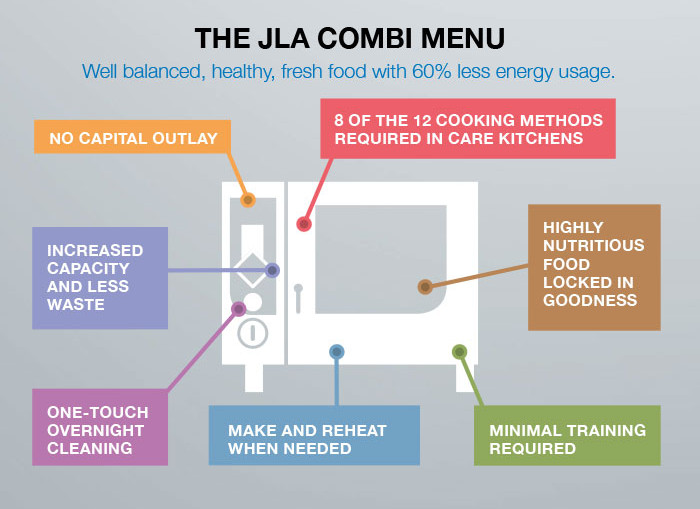 8 of the 12 cooking methods required in care kitchens
The ability to make and reheat when needed
Locked in nutrition in food
Maximum results with minimal training
Automatic operation to save time
One-touch overnight cleaning
Increased capacity and less waste
Contact one of our experts today for friendly advice that could save you time and money long-term.

E: info@jla.com | T: 0800 591903